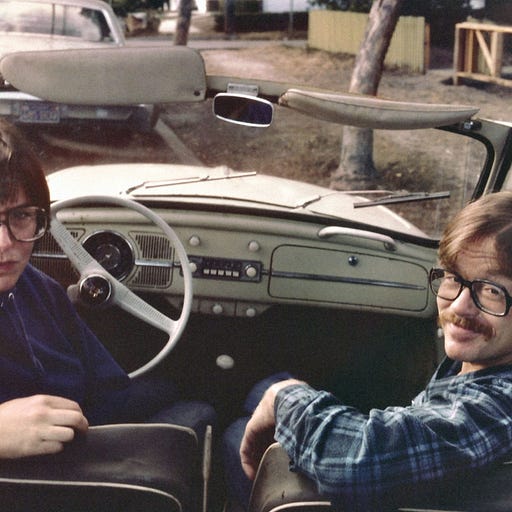 Feb 19 • 7M
Hey Wayne...
How Come You Didn't Leave?
For those who prefer to listen.
If you've only recently tuned in to this Substack, you might have missed a previous post titled It's a Big Country with musical guest Kyp Malone. That post revealed a secret from my past: I used to write country songs. This admission set a few things in motion, starting with the receipt of this photo from Bernie Mulligan. That's Bernie and me in my 1959 Volkswagen convertible, my first true love (the car—though I've always been fond of Bernie, too.)
Next came a series of long phone calls with Bernie, in which we pieced together details of a time that seemed like no big deal while we were living it, but now seems magical. Old friends are great because they are the keepers of our history.
The main set for this story was the American Automobile Association, aka "Triple A," office in New Monterey, California. Bernie worked as a AAA dispatcher, along with a rotating cast of friends.
When I first started writing songs, I thought it would be cool to learn to play guitar, a la Loretta Lynn. My friend Erin Ellwood, also a AAA dispatcher, told me one of her co-workers gave guitar lessons. At work. This is how I came to pass many an afternoon watching musicians handle emergency road service calls. If you got a flat tire—a T1 in AAA lingo—on the Monterey Peninsula in the early 1980s, chances are your call for road service interrupted a guitar lesson or music jam or possibly a joint break outside. There was always something happening at that busy office, which the boss—ironically named Wayne—was apparently OK with.
Bernie Mulligan was the guy who really brought my silly songs to life. A naturally gifted arranger, I'd sing him the lyrics and mostly intact melody which he would then build out, often adding harmonies—sung by him and sometimes his AAA coworkers.
We recorded some of those songs in Bernie's living room on his Advent Dolby Stereo Cassette Recorder, quite the piece of technology for the day. We'd do the whole song in one take. There was no overdub. If someone fucked up (usually me) we'd start all over. It was a blast.
In one of our recent marathon calls, Bernie said he was going to have those cassettes transferred to digital. True to his word, I got three songs in my inbox this week.
This one, "Hey Wayne," was a favorite, to be sure. Bernie is playing his 12-string guitar, while fellow dispatcher Rick Higgs plays my small body Gibson.
I remember making up this song. I used to take bike rides along the Monterey Bay in the morning before work. On one of those rides, I played with how the "Heeeeeeeyyyyy Waaaaaaaaayne" sounded with the wind rushing past my ears. So imagine that as you listen to it.

I never did become a guitar player, but I wish I'd kept that little Gibson guitar. Having instruments around attracts musicians, like flowering plants attract hummingbirds.